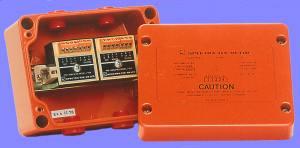 Features
High gain, frequency compensated amplifier allows reliable turbine meter operation from 2Hz to 2kHz.
Automatic pick-up coil continuity test.
Low CMOS circuitry power.
Differential line driver output for long distance transmission.
Line reflection diode-clamps and termination resistors included.
Complementary outputs allow transmission continuity check.
Protected against reverse power and overvoltage.
F106 PRE-AMPLIFIERS
The F106 pre-amplifier is used to raise the small mV signals of the Turbine Flow-meter pick-up coils to a satisfactory level for transmission over several kilometres. One pre-amplifier is required for each pick-up coil. The equipment is designed for use in the petrochemicals industry. Two F106 pre-amplifiers in combination with a dual pulse receiver satisfies the Institute of Petroleum level 'A' requirements, defined in IP252/76 when used with an appropriate enclosure.
The pre-amplifiers may be used for other applications where a frequency-induced EMF requires amplification.