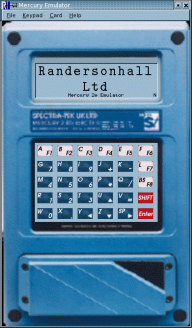 Features:
Looks and behaves like a standard Mercury, on-screen
Allows for the development and testing of host without the need for the Mercury hardware
Enables PC based training of operators
A "record" mode allows the capture of transmissions for debugging
Alternative keyboards available
Car swipe facility available
Runs on Windows 98, Me, 2000 and XP
Other operating systems on request
Operates through the PC standard serial port but intra-PC communication mode (using TCP/IP sockets) available on request
MERCURY EMULATOR
Installation on Windows
Download the package into a convenient place on your computer. Unpack the Zip file and using Windows Explorer, double click on the M2Demo.exe file.
If you would like the full version please contact us for details.
Notes for full version
The first available port (typically COM1) is used on startup but to change, select from the "File" menu. Make sure that any application that uses the required serial port (such as Palm Pilot HotSync) is closed