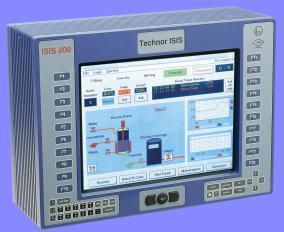 Download User Manual (2.1MB)
Download Data sheet (94KB)
Features
Provides the power of a PC in the hazardous area.
Measuring just 465 x 335 x 160mm.
Contains 15" TFT colour display.
PLC interface option.
Provides a single, self-contained control station without the need for a separate server PC.
Specially ruggedised for use in harsh environments, the ISIS 800 is simple to install and will run any standard software packages.
Range includes 12.1" and 18" displays
Operating temperature range is 0-40°C
Certified EEx de (ib) T6 Zone 1
Supply: 85-250V AC or 24V DC, 50W (approx)
ISIS 800 Hazardous Area PC
The ISIS 800 is a complete PC for use in hazardous areas. The unit comprises of a membrane keyboard, an integral pointing device together with a 15" TFT colour display.
The display is of XVGA resolution (1024 x 768) allowing 256000 colours. The LCD display is backlit using a cold-cathode flourescent lamp producing a bright, 300 cd/m2 screen.
The PC can be supplied with MS DOS, Windows 95/98, Windows NT and Embedded NT and others on request.
The communications interfaces include Ehternet 10/100 and 4 serial channels and a parallel port. Mass storage devices may be connected using SCSI and/or fast IDE. There is also a PC104 interface for hardware expansion.
The power requirements can be satisfied by a universal 85-250V AC supply or 24V DC. The power consumption is 50W (approx).